Brad Puredance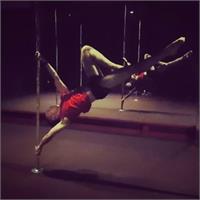 Brad is our star male Instructor! He has been Pole dancing since 2014 and excelled so well that he placed 1st in his first pole dancing competition in 2015. That same year Brad also began instructing at Pure Dance.
Brad keeps fit not only with Pole Dancing, Silks and Lyra but also cycling, playing squash, swimming and hitting the gym.
He has a background, bachelor degree, in computer science working as a software developer when not instructing.
Brad place 1st in the Men's Division of Newcastle Pole Dancing Championships 2015 and we look forward to his next competition!
Brad Puredance instructs the following:



Calling all Newbie's!

Have you always wanted to try Aerial Silks and Hoops but not known where to start? Start here!

During the ten week term you will learn foundation moves and start building your strength for more advanced moves.

No experience necessary!

What you need - enthusiasm and a positive attitude.




Open level pole dancing class for men.