Morgan Puredance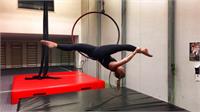 Morgan has over 17 years dance experience having started dancing when she was only 3 years old. She has trained in many different styles of dance including classical ballet, contemporary, lyrical, tap and her favorite styles jazz and hip hop.
Morgan is an experienced Instructor, despite her young age. She first started teaching, for the ballet school she trained at as a child, when she was only 14 years old. When she was 17 she got her second dance instructor role teaching ballet and jazz at another dance studio. In 2014 Pure Dance was lucky enough to welcome Morgan to the team.
During the day, Morgan works in Public Schools coaches kids. She works with kids from kindergarten to year 6 teaching them gymnastics skills on the floor, bars, tramp and beam as well as stretching and strength activities.
Morgan loves all things dance and loves helping other people find their love for it too!
Morgan Puredance is currently not instructing any classes.