Kitty Puredance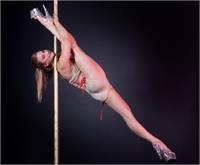 Kitty is our Principal Teacher. She has over 30 years dance experience having starting Ballet when she was only 4 years old. She has trained in many styles of dance and has extensive experience not only teaching dance, and as a Fitness Instructor, but also in the public education system and with students with special needs. Kitty has an undergraduate degree in psychology, a graduate diploma in education and has now started a masters of special education. Teaching is her passion and dancing is her true love.
Winner of 2012 Newcastle Pole Dancing Championships (Professional Female division) * Winner of 2011 Newcastle Pole Dancing Championships (Professional Female division) * Winner of 2011 Newcastle Pole dancing championships (Female Doubles Division) * Graduate Diploma of Education (Primary) (The University of Newcastle, 2010) * Bachelor of Arts (Psychology) (The University of Newcastle, 2004) * Fitness Instructor (TAFE NSW, 1999) * Royal Academy of Dancing Major Examinations (1994)
Kitty Puredance instructs the following:
Calling all Newbie's! Have you always wanted to try pole dancing but not known where to start? Start here! Pole Foundations has been designed to introduce you to the field of Pole Dance and to give you a taste of the different styles of pole dancing there are on offer like, Traditional Pole, Pole Fitness and Pole Art.

During the ten week term you will learn foundation moves and start building your strength for more advanced moves. Starting with moves around the pole that requiring very little or no strength and flexibility, with both feet mostly on the ground, you then progress onto moves that require you to take your weight in your arms while spinning around the pole, its lots of fun.
This class is also for anyone wanting to brush up their pole basics. Still cant get your Kate Moss or body rolls looking effortless, want to brush up on some pole moves you had forgotten about. Get back to basics with Pole Foundations.

And you will learn 3 mini routines! No experience necessary!

What you need - enthusiasm and a positive attitude.