Dolly Puredance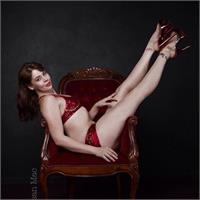 Dolly has been with Pure Dance from the start! She is a super important person at Pure Dance, the glue that holds Pure Dance together!
Dolly first started dancing when she was only 4 years old. She has experience with tap dancing, Jazz, ballet and belly dancing. She joined one of the very first Pure Dance classes in 2010 and was addicted from first spin! Two years later, in 2012, she began instructing at Pure Dance. Now she loves to choreograph routines for classes and our competition team!
By day Dolly is a dog groomer with certificate 1 and 2 in animal attending and is also a certified microchipper. By night she is one of Pure Dances busiest instructors!
For any question big or small Dolly is your girl.
Dolly Puredance instructs the following:
By now you are taking your body weight in your arms, and even one arm, while spinning around the pole. You can climb the pole and do moves sitting up the pole. You are going up side down, and you are confident to hang from the pole with only one or two points of contact. Your getting pretty good!




A revision of Pole Foundations to INT 4. This class will get you ready to progress to Advanced levels whilst making sure you have perfected your technique when executing beginners and intermediate level moves and combinations. The focus is on technique, you will learn a routine but you will not learn any new moves.




There is no denying a full split, or even better a hyper extended split, of any kind looks amazing!! These classes are for those who really want to accelerate their achievement toward rubber band flexibility. Stretch classes take students at all levels, with different strengths and weaknesses, who require different stretches to get the maximum benefit in the safest way. Our classes provide different levels of instruction for each exercise and our teachers want to know your personal goals and concerns, so you know you will get the most you can from your class.




By now you are addicted. Were your last shoe purchases - platform? Do you always 'sexy stand' up no matter where you are? Dreaming of pole moves in your sleep? Time for Intermediate 3. With more complex moves and combinations, Int 3 is quite physically demanding and acrobatic - we highly recommend 2 courses per week at this level and above.




A mixed level (open) Pole Class.




Stepping up to the big league! This course focuses on polishing your technique and preparing you for Advanced. Be ready to start working meticulously on your technique, form, finishing moves and never, EVER, forget to point your toes!!