Barbie Puredance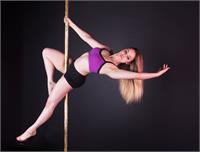 Barbies passion for pole started at Pure Dance in 2011 and only 12 months later she was asked to become an instructor! A versatile dancer and instructor with an ability to make things her own Barbie has created her own brand of moves and her own signature class! Barbie has specially tailored 'Hairography, Heels and Floorwork', to be suitable for all levels, for those who have a passion (or curiosity!) for the traditional or exotic style of pole dancing; musicality, high heels, hair flicking and seamless, flowing movement around the pole and floor. You wont meet a more sophisticated seductress than Barbie!
When Barbie is not dancing she is using her certifications in business services and administration. Her career has seen her work in a wide range of customer service, administrative, payroll and human resource support roles in both private and public organisations. But her favorite time is when she has her 7 inch heels on!
Barbie Puredance is currently not instructing any classes.