Shaniqua Puredance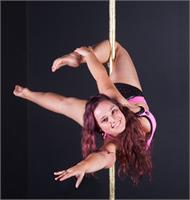 Shaniqua brings the booty to pure dance. Since she first discovered dance at age 6, Shani has loved the stage. She has a dance background in ballet, tap, jazz, contemporary, lyrical and hiphop. Shani came to pure dance in 2012 because she wanted to continue dance and performance with other adults. Since discovering pure dance, shaniqua has learnt to love her booty and has trained in twerk and booty dance styles.
Shaniqua is a speech pathologist by day and has extensive experience working with people who have disabilities and supporting them to achieve their potential. Shaniqua was also awarded Young Australian of the Year for her local region in 2015 and Hunter youth volunteer of the year in 2014 for her work in the disability sector.
Shaniqua Puredance instructs the following:
After Beginner Pole you advance to intermediate 1 where we build on foundation moves and start getting you up the pole! Over the course of your 10 week pole dancing lessons you will build on your strength and ability to take your body weight during moves around the pole, AND begin your journey up the pole, learning how to climb and some basic moves sitting on the pole. And of course you will learn an awesome routine!